Heritage Month in September and Heritage Day on 24 September
Heritage Month in September and Heritage Day on 24 September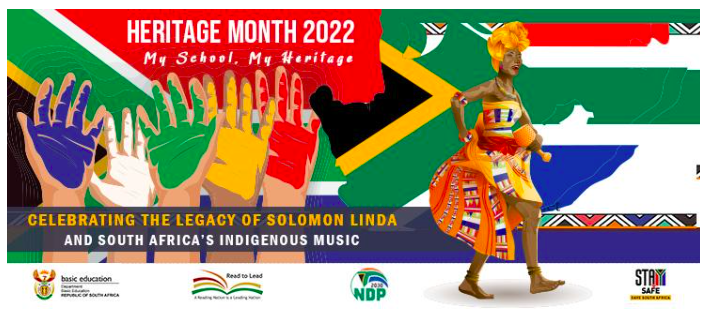 Heritage Month in September and Heritage Day on 24 September is commemorated annually to mark our nation's diverse culture and heritage. The 2022 theme for Heritage Month is "Celebrating the Legacy of Solomon Linda and South Africa's Indigenous Music".This year's theme pays tribute to the 60th anniversary of the passing of singer and song writer Solomon Popoli Linda. He is best known as the composer of the song "Mbube" which later became the popular music success, "The Lion Sleeps Tonight" and gave its name to the Mbube style of isicathamiya a Capella music.
A variety of values, social cohesion and nation building programmes for 2022 will be taking place during the DBE's annual Heritage Month celebrations. These programmes include, amongst others, the iNkosi Albert Luthuli Oral History Programme, as well as the Heritage Education Schools Outreach Programme. Apart from honouring our learners, the programmes also recognise History as one of the critical subjects required in empowering future leaders. The iNkosi Albert Luthuli Oral History Programme keeps oral storytelling traditions alive. This Programme is one of our critical interventions in the basic education sector's social cohesion and nation building agenda, as it reminds us of the importance of sharing knowledge and good practice about oral history, hence it contributes immensely to the realisation and affirmation of our democracy. The iNkosi Albert Luthuli Oral History Competition will be taking place at the Durban Luthuli Museum in the KwaZulu-Natal Province on 30 September to 2 October 2022. In order to incorporate diversity and inclusion, for the first time this year, poetry and storytelling will also be delivered in vernacular languages. There will be intentional participation of Learners with Special Education Needs (LSEN).
The Heritage Education Schools Outreach Programme (HESOP) in turn, is an annual national schools project for Grades 8 to 11 learners aimed at encouraging the youth to know their heritage, as well as exploring traditions of other cultures. Schools in the country challenge each other to represent their province at a week-long camp at a national heritage site, where learners are taken through an educational exchange experience. The finals will be taking place at Marakele National Park in the Limpopo Province from 3 to 6 October 2021.
As the Directorate exits Heritage Month, it will engage in various activities and programmes in celebration of October as the Month of the Girl Child, with 11 October being observed globally as the International Day of the Girl Child. The Techno-Girl Recognition Event will be taking place at the Columbus Mine in the Mpumalanga Province on 29 September 2022. The aim of the Event is to mobilise new job shadowing organisations to participate in the Techno-Girl programme. The specific objectives of the event are: creating awareness of the participating host organisations; showcasing the beneficiaries of the programme; and popularising and position Techno-Girl as a high-profile programme to secure job shadowing opportunities for 500 new girls.
Sign in to add your comment.
Shortcuts
CSTL SA Handbook
Delivering on the CSTL Mandate
The Incredible CSTL Journey
---
2022 School Calendar
Education in SA:
Number of learners in ordinary schools: 13 409 249
Educators: 447 123
Schools: 24 894
Districts: 75
Provinces: 9
Pass rate for 2021 NSC Examinations: 76. 4%
---
2022 National Senior Certificate Examinations
31 October - 07 December 2022
---


---