The Minister of Education and Training Honourable welcomes US$ 2.3 million contributed by Japan to Support School Feeding
(Wednesday, 12 May 2021) In an endeavor to assist vulnerable learners in Lesotho, the Minister of Education and Training Honourable Ntlhoi Motsamai in collaboration with the World Food Programme (WFP) Lesotho welcomed US$ 2.3 million.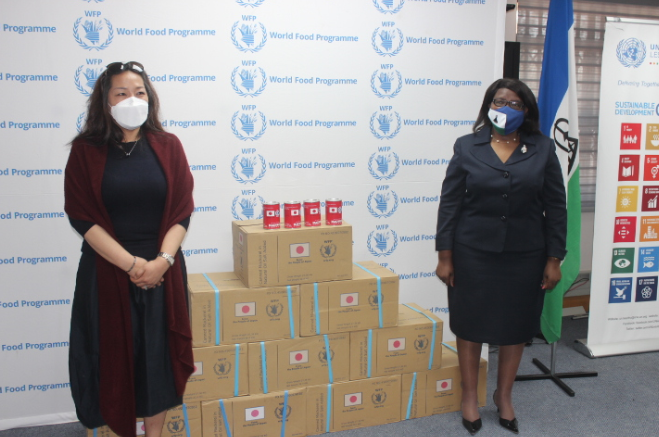 The money was contributed by the Japanese Government to United Nations World Food Programme. It will enable WFP to strengthen food assistance to some 94,000 primary school and 60,000 pre-primary school learners, through the Government of Lesotho's national feeding program.
A virtual ceremony was held at the United Nations House to mark the contribution which will be used to buy canned fish, maize meal, and highly fortified foods to further diversify nutritious meals offered by primary schools and Early Childhood Care and Development (ECCD) centers across the country.
Meanwhile, WFP also donated 206 Metric Tons of canned fish to the Ministry of Education and Training. The donation according to WFP Country Director and Representatives Ms. Hsunhee Marian Hun, was to help the most vulnerable Basotho children some of whom, the ongoing nutritious meals they receive are provided through the national school feeding program at both ECCD and Primary School levels.
Accepting the donation, the Minister indicated that the fish will be provided as a take-home ration to about 29,600 vulnerable leaners in Early Childhood Development Centers and will reach a total of 118,400 beneficiaries.
She mentioned that due to COVID 19 the Ministry of Education and Training had already changed the school feeding modality to a take-home ration mode targeting the vulnerable children in schools.
She said the take-home ration that continues to be run by MoET using food that was meant for school feeding during this academic year. She further explained that this is done to ensure that children remain healthy and ready to come back to school as soon as the National COVID 19 Secretariat (NACOSEC) approves the total opening of the schools throughout the country.
The COVID 19 pandemic has impacted negatively on many livelihoods throughout the country since March 2020. The closure of schools all escalated the situation whereby vulnerable learners were no longer able to get their usual meals at school